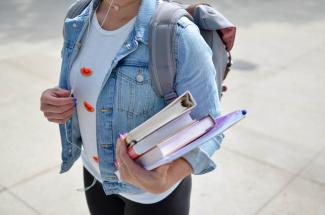 Off to College? This is a Must Sign
Getting your young adult child or even grandchild ready for his or her new life experience in higher education may be a hectic process. Your thoughts may surround costs, dorm aesthetics, books, sports programs or a many other priorities.
However, a very important document that I believe parents and guardians should have their young one sign is a durable power of attorney and a health care proxy. Once that child, in most states, reaches the age of 18, parents no longer have the authority to make health care decisions or manage money for their kids, even if they are paying the tuition or have them on their health insurance plans and claim them as dependents on their personal income taxes. This means that if anything pernicious happens to your child you might need court approval to act on his or her behalf.
This is not something to take lightly as accidents are the leading cause of death for young adults. About 250,000 Americans between the ages of 18-25 are hospitalized with nonlethal injuries each year. Due to the highly regulated HIPAA (Health Insurance Portability and Accountability Act) laws, doctors will refuse to provide health information to anyone other than the patient, if he or she is over age 18.
Having in place a health care power of attorney or a health care agent, authorizes someone to make medical decision on your behalf. It also gives that agent access to medical records. You do not have to pay copious amounts of dollars to get these documents in place. Usually they can be found from your state's website. You can search "free [your state] power of attorney form". Here is a link to the New Jersey form: http://www.caringinfo.org/files/public/ad/NewJersey.pdf
If your child is off to college, even if it's close to home, have this form completed and ready in the event of an emergency.
Michael Anicito, CFP®
Inspire Investment Solutions, LLC - President
646.606.2111
Michael is an independent CERTIFIED FINANCIAL PLANNER™ who practices in New York and New Jersey. He works with individuals and business owners alike to help save for retirement and manage their assets. He is currently the President of Inspire Investment Solutions, LLC (www.inspireis.com). For more information or a complimentary consultation you can reach him at 646.606.2111
or at mike@inspireis.com.
---
Jacobs, Deborah L (2014, August 15) – Two Documents Every 18-Year-Old Should Sign Retrieved From: https://www.forbes.com/sites/deborahljacobs/2014/08/15/two-documents-every-18-year-old-should-sign/#580c81e26e33
The opinions voiced in this material are for general information only and are not intended to provide specific advice or recommendations for any individual.
This information is not intended to be a substitute for specific individualized tax or legal advice. We suggest that you discuss your specific situation with a qualified tax or legal advisor.